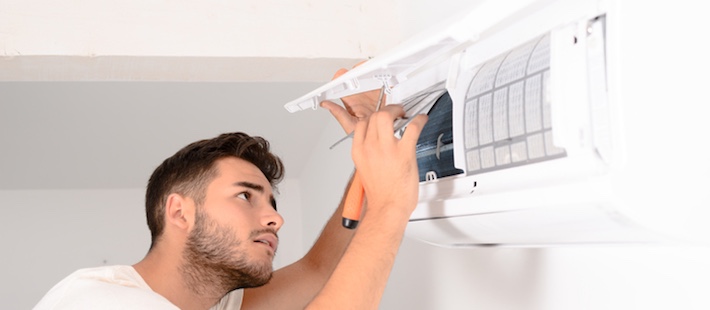 My Air Conditioner Won't Turn On After a Hurricane
If you've lived in Florida long enough, you're familiar with the ins and outs of hurricane season: Buy non-perishable foods. Board up your windows. Get enough potable water to last you several days. Have plenty of lanterns and back-up batteries. But what do you do if, despite all your preparations, your air conditioner won't turn on after the storm?
While there are several precautions we recommend to prep your AC before the storm, there are also several ways to troubleshoot afterward.
5 Troubleshooting Tips for an AC That Won't Turn on After a Hurricane
1. Check the circuit breaker. Before you freak out and rush to file a claim for damages with FEMA, first make sure to check for a simple solution. If the hurricane was of a higher category, it likely caused power outages throughout your city. If this is the case, there were probably power surges when electricity was restored. Check your breaker panel. If the switch that's labeled "air conditioner" is switched to the "off" position, make sure to set it to the middle setting before switching it to "on".
2. Call your power company. After 2017's hurricane Irma, there were homes throughout Pinellas County that had power for some of their appliances, but larger items such as air conditioners, washers and dryers were not working. The culprit was voltage. When power was restored to some neighborhoods, there was enough electricity to make a toaster function, but not enough to start an AC. A recorded message from the local power companies notified residents of the reason for the malfunction and a timeframe for when it would be restored.
3. Keep an eye on the breakers. It's normal to get a few surges when power is restored after a storm, but if they keep happening, check to see how many of the breakers are tripping. If it's all of them, it's an electrical issue. If it's only the one that powers your air conditioner, your AC unit is overheating. If this is the case, contact an HVAC professional for service.
4. Reset your air conditioner. As the case with most tech and electric appliances, a simple reboot should do the trick. Set the thermostat to off, shut off the circuit breaker, wait a few seconds, then turn it back on. Wait 30 minutes before turning on the AC again. If there was no hurricane damage to your unit, it should work fine.
5. Pay attention to the time it takes to cool your home. If the air filter and condensate line is clean, yet your air conditioner is taking longer than usual to cool your home, watch for additional signs of damage, such as a hissing sound or frost forming on the condenser unit outside your home. If this is the case, you likely have a refrigerant leak. Call an HVAC technician immediately, since extended exposure to refrigerant is hazardous to your health.
Call our HVAC Professionals at A Plus Air Conditioning for AC Service Repair
No matter the issue with your air conditioner, we can assist you. We provide services throughout north central Florida. And because we understand that a working air conditioner is essential in Florida, we offer 24/7 AC emergency service.
Call us at (352) 374-4988 and let us get your AC back to proper working order.