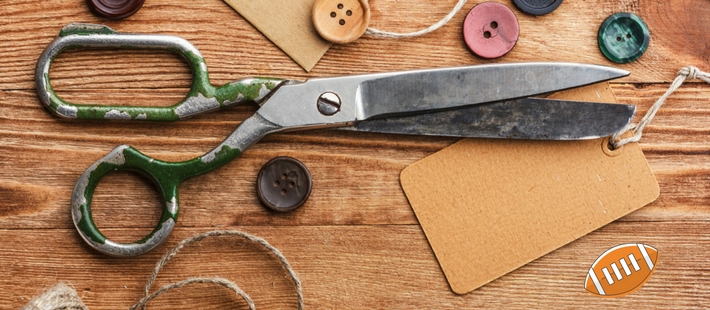 Football Season in Florida: DIY Home Decor
With professional and college football season right around the corner (and summer utility bills eating at your pockets), DIY projects to decorate your home for football season can help keep your team and budget at the top!
Football DIY: Burlap Football Coasters

Supplies:
– Burlap
– Sewing Machine
– Scissors
– Printer
– White Fabric Paint
Directions: 
– Print and cut out a coaster sized football to use as a template for your coasters.
– Use your templates to draw out the shapes on your sheet of burlap. You will need two footballs for each coaster.
– Cut out the footballs and place them in pairs.
– Sew the pairs together after stacking them on top of each other.
– Use white paint to create a football design!
Soda Can Field Goal Post

Supplies:
– 1 Full Soda Can
– 8 Empty Soda Cans
– Glue Gun
– Yellow and Black Spray Paint
Directions: 
– Glue together 1 stack using 3 empty cans, 2 stacks using two empty cans and 1 stack using one empty can and a full can.
– Using the full can as a weight at the bottom of your goal post, glue the stack of 3 cans horizontally onto the stack of 2 cans in a T-shape.
– Next, glue the 2 stacks of two empty cans on the ends of the T shape.
– Use the yellow spray paint to paint the goal post and the black spray paint to paint the bottom 'weight' soda can.
– Feel free to add a banner from post to post to add to your design!
DIY Game Day Mason Jars

Supplies:
– 3 Mason Jars
– Painter's Tape
– Paint (black, white, brown, and your team's colors!)
– Paint Brush
– Sealing Spray
Directions: 
– Start by cleaning and drying the mason jars before painting.
– Paint the first mason jar brown, second one white and the third mason jar one of your team's colors.
– Apply painters tape in the shape of a football on the brown mason jar, vertical stripes on the white mason jar, and horizontal stripes on your team's mason jar.
– Paint black stripes on the white mason jar for a referee look. Use the white paint to outline your football and paint your team's other color on the last mason jar to create a jersey look!
– Remove the tape after the paint dries and spray with a sealer. Now you can fill your mason jars with silverware, snacks, or some more football decorations!
Get Ready for Football Season in Florida with A Plus Air
Now that you have all the decor you need for a successful game day party the only thing that could bring you down is a broken air conditioner. Make sure your A/C is a starting player this football season by calling or scheduling an appointment online with A+ Air Conditioning and Refrigeration!