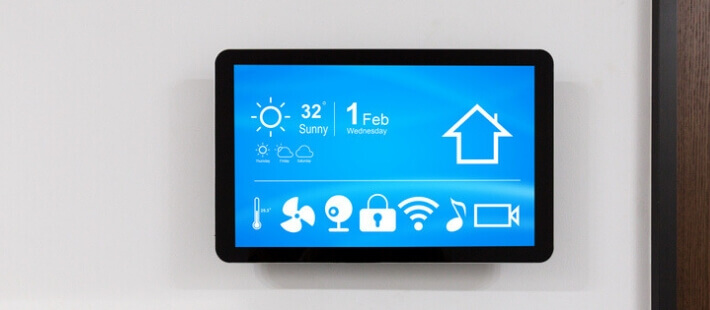 How a Smart Thermostat Can Save on Your Energy Bill
Nowadays, smart gadgets are everywhere: Smartphones are practically another limb. They allow us to take pictures, record videos, transfer funds, find a ride, order food, listen to music (and that's just the tip of the iceberg). Smart refrigerators remind you when you're running low on a family favorite. Smart security systems enable you to lock your home and turn on lights while you're away. So of course, someone created a thingamabob that empowers you to control the temperature inside your home without even being home or thinking much about it.
What Is a Smart Thermostat?
A smart thermostat does a lot more than adjust the temperature in your home. If your home is usually empty during regular business hours, the thermostat will adjust the temperature to prevent energy waste.
It allows you to control your home's settings remotely. If you have a late meeting, or if you went on vacation and forgot to adjust the AC, simply pull out your smartphone and do it from wherever you are.
You can tell it what to do: Just as you can ask Siri or Alexa to do things for you, some smart thermostats have a voice command feature. If that's too creepy, you can opt for a thermostat with a motion sensor. That way, you don't even have to worry about scheduling anything. The thermostat will sense what to do and when to do it.
What Is the Difference Between a Programmable and a Smart Thermostat?
A programmable thermostat is exactly what the name implies: You can set, in advance, when the thermostat should change its settings. While useful, their efficacy relies on you remembering to adjust the settings when your schedule changes. Therefore, there are plenty of homeowners who are not saving as much money as they could be with their programmable thermostat.
A smart thermostat goes the extra mile: It knows when to adjust temperatures so that you don't even have to think about it. Settings will change based on the activity level in the home.
How a Smart Thermostat Can Save You Money
Raise your hand if you like spending your hard-earned money on high utility bills. Even if you have a generous budget, it makes no sense to throw money away.
Adjusting the temperature in your home between 7 to 10 degrees on a daily basis means you'll save up to 10% on your monthly utility bills. Granted, this amount can vary depending on several factors, such as: how old your AC unit is, the size of your home, the year the home was built, and your preferred temperature when you are home. To get an idea of how much a typical electricity bill should be, you can use this calculator.
Call Our HVAC Professionals at A Plus Air Conditioning and Let Us Help You!
No matter the issue with your HVAC system, we can assist you. We provide installation, maintenance, and repair services throughout North Central Florida. And because we understand that a working air conditioner is essential in Florida, we offer 24/7 AC emergency service.
Call A Plus Air at (352) 374-4988 and let us get your AC back to proper working order.