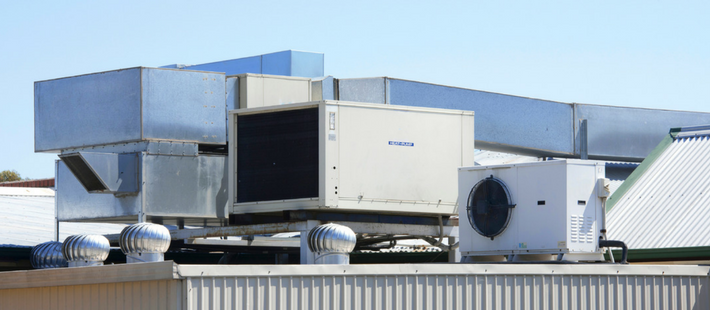 Ultimate Guide to Gainesville Commercial Air Conditioning
Maintaining a comfortable environment for employees, clients, and customers is the ultimate goal of commercial air conditioning service, especially here in swampy Gainesville, Florida. Our HVAC experts at A+ Air Conditioning and Refrigeration know exactly what it takes to keep a business cool and comfortable year round and we want to share information and tips to help business owners. Keep reading to learn the importance of workplace HVAC, common air conditioning problems business owners face, and all about AC upgrades to help your business save money.
The Importance of Air Conditioning in the Workplace
The workplace is not the only place where Floridians should understand the importance of air conditioning. Business owners in Florida are even more aware of how important a good HVAC system is—but air conditioning in the workplace may be far more important than you think! Keep reading to learn the importance of AC in the workplace and what you can do to achieve optimal comfort in your business.
Why is Commercial Air Conditioning So Important?
Let's face it—air conditioning has become one of the most important inventions since its creation in the early 1900s. But while AC may seem like just a modern convenience, it's necessary for your business for many reasons.
– Creates a Comfortable Workspace: For starters, commercial air conditioning helps you create a comfortable space. This is a no-brainer, but as a business owner, you know that ensuring your business is comfortable is crucial. If your business is hot, stuffy and humid, no one (including you, your employees and your clients or customers!) will enjoy being in the space. As a result, your business will undoubtedly suffer. You won't want to be there, your employees won't want to be there, and your customers won't want to be there either.
– Improves Indoor Air Quality: Besides improving the temperature and humidity levels in your business, air conditioning improves the quality of the air inside. A quality air conditioner improves indoor air quality by removing all of the nasty things in the air. That way, you, your employees and your customers don't breathe them in.
Read more about indoor air quality in our blog: 3 Simple Steps to Improve Your IAQ and Protect Your Health
Learn how to improve indoor air quality with plants in our blog: 6 Houseplants for Improving Air Quality
Quality Commercial Air Conditioning Equals Increased Productivity
So, what does it all mean? Ultimately, as air conditioning helps you create a comfortable space and improves the indoor air quality, your business will garner more success. How? Increased productivity! When you create a comfortable space, you, your employees and your customers will be happier. You and your employees will be able to work better and increase productivity and your customers won't be making a beeline for the exit to escape the heat.
Indoor air quality plays a huge role in increasing productivity too. Studies have shown that people who spend time in spaces with good IAQ are sick less often than those who work in places with poor IAQ. This means you and your employees will be healthier, suffer less from allergies and can be more productive as a result.
For more information check out our blog: The Surprising Science Behind Classroom Temperature and Student Performance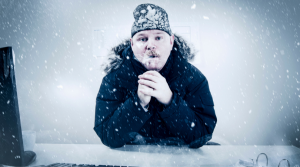 5 Common AC Problems Business Owners Face
Your business's heating and cooling system is a vital part of day-to-day operations. When something goes wrong, it's not only inconvenient, but it could also lead to lower productivity and profit. To prevent an AC emergency from occurring, discover the problems business owners commonly face and learn how to handle them.
1. Uneven Temperatures
The HVAC system in a commercial space has a lot of ground to cover. If you find that some areas of your building are warmer or cooler than others, it could mean your ducts or air filters are clogged. Simply replacing your filter or having a professional duct cleaning should solve the problem. However, the issue may also be the layout of your building. Areas with more windows or spaces that are closer to the entrance tend to be hotter than others. If this is the case, you may need additional air vents or another thermostat installed. Either way, a professional AC technician will be able to come up with the best solution.
2. Building is Always Too Cold or Too Hot
If the temperature in your building just never seems to reach what you set on the thermostat, and you find your unit constantly running or frequently switching on and off, your HVAC system may not be running efficiently. This may be because it needs a good cleaning and tuning, but it could also mean the unit is too small or worn down to sufficiently warm or cool your building. A professional will be able to diagnose the issue and let you know if it's time to replace the system.
3. Strange Sounds Coming From Your HVAC
In a commercial space where employees are working and customers are visiting, a quiet HVAC system is vital. But, while strange sounds coming from your system are distracting, these could also be signs of other issues. Call an AC professional immediately to keep your unit safe.
4. Water Leaking From Vents
There are various causes for AC leaks, ranging from clogged drain pipes to dirty air filters. However, regardless of which piece of equipment is causing the issue, water coming from your AC system is usually a sign that it has been overworked. This happens frequently in the summer as your AC tries extra hard to keep your business cool. When you notice water leaking from your system, shut it off immediately and call a professional technician for an emergency repair.
5. Thermostat Issues
A commercial thermostat is usually responsible for regulating the temperature in a much larger space than a home thermostat is. Because a thermostat can only measure the temperature of the air immediately surrounding it, it may not be able to maintain an even temperature throughout your entire building. Having a programmable thermostat system that allows you to regulate temperatures throughout the different areas of your building can be extremely helpful. Contact the trusted HVAC professionals at A+ Air Conditioning to learn more about these options.
Think you need commercial air conditioning service? Learn 7 Things to Check Before Calling Your Gainesville HVAC Technician
How Your Business Can Benefit From Programmable Thermostats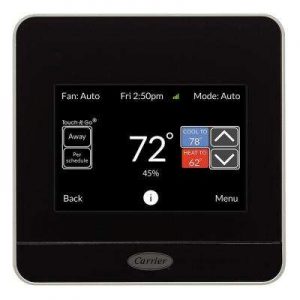 Business owners are always looking for ways to cut costs. And one of the biggest expenses every property owner faces is the monthly energy bill. With heating and cooling making up nearly half of your energy bill, your commercial air conditioning system is one of the best places to find savings.
Installing a programmable "smart" thermostat is a quick and simple way to start cutting energy costs. Not only will a programmable thermostat help you control temperature and save money, but they are great for the environment as well. It's win-win for your wallet and the earth! Discover everything you need to know about how the right thermostat can save you big!
What Is a Programmable Thermostat?
Today, there is a "smart" version of everything. From our cars to our TVs, technology has made our lives just a little easier. And thermostats are no different!
With old, manual thermostats, you had to physically switch the dial to the temperature that you wanted. This means, to get the most savings, you would have to adjust the temperature before leaving and coming into your building every day.
However, with a programmable thermostat, you don't have to worry. You can actually program a schedule for your thermostat so it will automatically switch to the best money saving setting. Some thermostats can even learn your business's schedule automatically. On models with Wi-Fi capability, you can track the current temperature from your smartphone or computer and adjust it from anywhere in the world!
How Programmable Thermostats Save Money
A programmable thermostat is the best way to pair comfort with energy savings. Some people believe the best way to save money is by switching their air conditioners off at night. However, this is not true. The cost of trying to cool a large space is much more than the cost of maintaining one temperature.
The best way to cut cost is by simply adjusting the temperature by a few degrees. This is how a programmable thermostat works. Some of the higher end models actually know when someone is still in the building, and will automatically adjust when they leave.
Learn The Secret to Setting Your Thermostat for Savings
Contact A+ Air Conditioning & Refrigeration for Commercial AC Repair
We hope our ultimate guide to commercial air conditioning proved why business owners in Gainesville and throughout Central Florida trust A+ Air Conditioning and Refrigeration as their commercial air conditioning contractors of choice. Call us today at (352) 374-4988 to learn more about how our commercial maintenance and management services can benefit your business.
With over 18 years of experience in the heating, cooling and refrigeration industry, we know exactly what it takes to guarantee that your business is equipped for success. Our unwavering focus on innovative and sustainable commercial solutions make us the area's leading choice in commercial air conditioning. We strive to exceed your expectations, and our entire team works hard to see that your hard work is rewarded. Your complete satisfaction is guaranteed.
Our highly trained and certified HVAC professionals are dedicated to quality commercial service to fit your business budget. Here are some of the services you can benefit from when you partner with A+ Air Conditioning and Refrigeration:
—Commercial HVAC Installation
—Commercial HVAC Maintenance & Comfort Club Maintenance Program
—Commercial HVAC Repairs
—Top Industry AC & Heating Equipment for Commercial Spaces
—Commercial Duct Systems
—Air Duct Cleaning
—Indoor Air Quality Assessments & Air Filtration Systems
—High-Efficiency Options & Alternatives
—Refrigerator Repair & Installation
—Commercial Ice Machines
—Walk-in Coolers & Freezer Systems
—Reach-in Coolers & Freezers
—Commercial Exhaust Hoods
—Gas Piping
—Gas Furnace Installation
—Dryer Installation
—Pool Heaters & Pool Heater Installation
—Fire Logs & Fire Log Installation
And More!