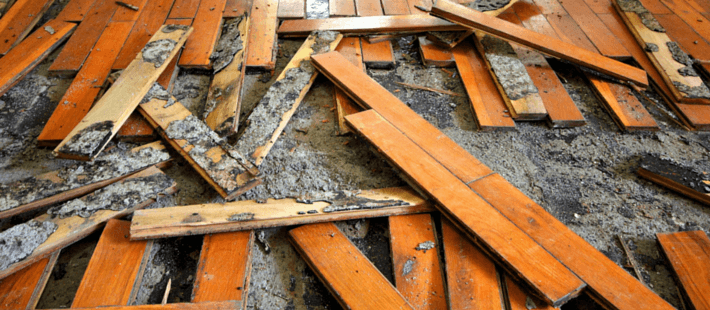 3 Ways Humidity Damages Your Home
Living in Florida, we're no stranger to humidity. After all, the Sunshine State is the most humid state in the U.S. next to Louisiana. But while humidity makes us feel gross and sticky and ruins our hair, humidity can ruin your home in unsuspecting ways too. Read on to learn more.
3 Ways Humidity Damages Your Home
Humidity may seem harmless, but it can damage your home without you even realizing it.
1. Floors
Wood floors are a beautiful investment, but too-high humidity levels can be damaging. Wood floors that are exposed to excess moisture are susceptible to rot and may need to be replaced sooner than less-humid space. For homeowners with carpet, you're not off the hook either. Humidity promotes mold and mildew growth, which can spread to the carpet and damage it to the point of needing to be replaced.
2. Walls
Excess moisture can affect your walls too and ultimately result in wall damage. Sogginess, bubbling and peeling can occur from high levels of indoor humidity. Even worse, mold growth can grow and cause costly damage. In addition to controlling moisture levels in your home, you can also opt for vapor-retardant paints.
3. The Attic
Attics are prone to hot and humid conditions, which can damage the floors, walls and ceilings of your attic. Worse, your valuables are all at risk of beng damaged too. Make sure your attic is properly ventilted to avoid this.
5 Ways to Deal with Gainesville, Florida Humidity
Humidity is proven to make you feel hotter, which is something no Floridian wants considering we already have to deal with oppressive heat as it is. In the summer especially, it seems like staying cool is a full-time job. These quick tips will help you keep cool throughout the approaching summer.
1. Stay Hydrated
Alright, this is a no-brainer, but be sure to drink lots of ice-cold water throughout the day, especially if you're typically grabbing a soda over good ol' H2O. While research varies, the Institute of Medicine recommends about two liters of water each day. Keep in mind you need more water if you're going to be outdoors on a hot summer day.
2. Invest In a Dehumidifier
Air conditioning systems also dehumidify the air, but in certain places (like The Swamp!) more is needed. Being hot and humid outside is one thing — you shouldn't have to feel hot and humid indoors too. By drawing excess moisture from the air inside, a dehumidifier can make your home cooler and more comfortable. Better yet, a dehumidifier can reduce the number of allergens in the air, reducing allergy symptoms as a result. Oh, and another added bonus — dehumidifiers are relatively small and are extremely quiet!
3. Replace Air Filters
A dirty air filter will slow down your AC, making it harder to remove excess moisture that forms humid conditions. For good measure, replace your air filter at the beginning of each month. If you have pets or allergy sufferers in your home, consider replacing air filters even more.
4. Shower Shorter, Cooler
Take shorter showers that are less hot than usual. Steamy, hot showers will only add humid air to the rest of the home, especially if your home is poorly ventilated.
5. Ventilate Your Kitchen
If you spend a lot of time in the kitchen, make sure the area is properly ventilated. Without proper ventilation, steam, heat and the like get trapped in your ktichen. This can make the area as well as the rest of your home, much more hot and humid.
Gainesville AC Maintenance to Help Florida Humidity
How do you deal with Florida's oppressive humidity? If you need any other tips, tricks or hacks be sure to contact the heating, ventilation and air conditioning experts at A Plus Air Conditioning in Gainesville, Fla.
At A+ Air Conditioning and Refrigeration, we take the health of your home and your family seriously. Our team of highly trained technicians and air quality experts are here to diagnose and solve problems of all scopes and sizes. Contact us to start taking steps toward your health today. Our friendly, on-call representatives are here to answer any questions you may have.
Contact us today to schedule service online or call us now at (352) 374-4988.