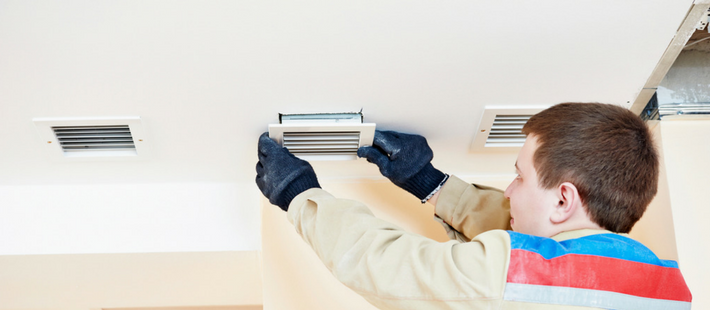 Is Air Duct Cleaning Worth the Cost?
Looking into air duct cleaning? You may have heard that keeping your ductwork clean is worth the time and cost, but is it true? Every good homeowner does their research before performing work or scheduling work to be performed on their home. Read on to learn more about air duct cleaning to help you make a more informed decision.
Looking for Air Duct Cleaning Services in Gainesville, FL?
Call us now at (352) 374-4988 or
SCHEDULE SERVICE ONLINE
Why You Should Clean Your Air Ducts
Substantial and visible mold can grow on the hard surfaces in the ductwork of an HVAC system in any sort of space whether residential or commercial. A professional is needed to reach the hard to reach areas of the air ducts. A positive mold detection can only be made by an expert, usually at a laboratory. Wet or moldy insulation in the air ducts must be replaced with the proper materials as they can not be effectively cleaned. A professional air duct cleaning service, like A+ Air Conditioning, will also be able to find the underlying causes of wet, dirty or moldy ductwork. Animals, vermin and other critters have also been commonly found in air duct systems and a ductwork specialist will be able to determine how the animal was able to enter the building.
In addition, research has found that regular AC maintenance and cleaning of heating and cooling systems, including the ductwork, can improve the life and efficiency of the system. Allergies and unexplained respiratory issues should be investigated thoroughly, including inspection of the cleanliness of all home systems.
How to Know When You Need an Air Duct Cleaning
A noticeable temperature change from room to room, increased energy bills and dust accumulation in the home can all be signs that you need to have your ductwork inspected and possibly have your air ducts cleaned. Learn more in our blog about what you need to know about air duct cleaning.
How to Prevent Dirty Air Ducts
A consistent, preventive AC maintenance program to service your entire heating, ventilation and air conditioning system including things you can do yourself such as:
– Using a highly rated MERV air filter, and changing your air filter regularly.
– Sealing any supply and return air vents and registers prior to any construction or renovations in the home.
– Keeping your home generally clean and free of dust on a consistent basis.
– Promptly repair any water damage or leaks in the roof or walls of the home.
A Plus Air Conditioning Ductwork Cleaning in Gainesville:
When you call us for your residential or commercial air duct needs, you can expect the following components to be inspected and cleaned:
– Air Ducts and Registers
– Grills and Diffusers
– Heat Exchangers
– Heating and Cooling Evaporator Coils
– Condensate Drain Pans
– Fan Motor and Housing
– Air Handler Unit Housing
Is Air Duct Cleaning Worth It? Yes.
After reading these signs to know when you need an air duct cleaning did you decide that your home could benefit from a duct cleaning service? At A+ Air Conditioning, your comfort is our top priority. Our trained experts are experienced in ductwork installation and cleaning jobs, both big and small. Improve your air quality and circulation, and invest in your family's continued health. Call to schedule an appointment. We are committed to restoring high comfort to your home or office!
Be sure to check our AC Specials page to see how you can save money when you schedule! 
SCHEDULE SERVICE